This post itself isn't particularly brilliant or groundbreaking, it's just a collection of magic items for you to "inherit" for your D&D, Knave, Into The Odd, or other RPG games. I'm sure you will find at least some of these items interesting, most are dedicated to either make a situation more interesting or embrace the spirit of the OSR. Hell, maybe you can even start some of the PCs off with an item by rolling 2D6, one for the category of item they get and one for the actual item under that category. If you are using a 6-stat-system, replace WIL with Charisma, Intelligence, or Wisdom, whichever you find most appropriate for the item. Just a note, quite a few entries are inspired by
this
excellent post from a
new blog
with lots of potential, check them out! Without further ado: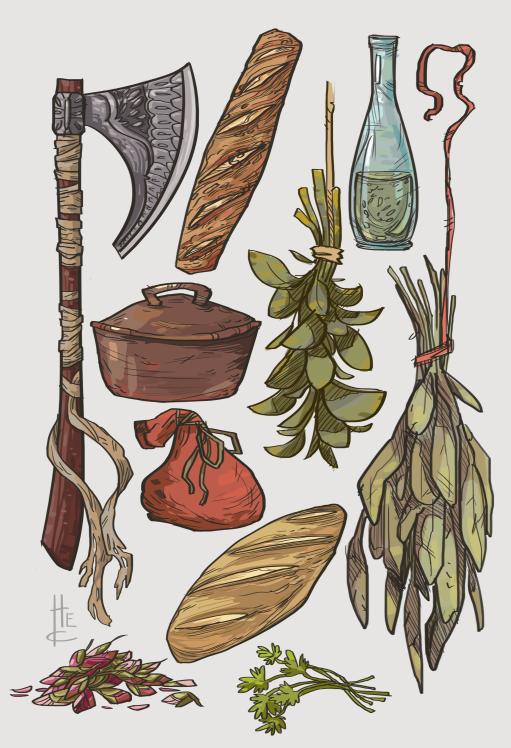 Adventurous Equipment
(Nafah)
Light:
1.
Sprite Lamp.
A lantern with gold foil inlaid on it, it emits an amber light up to 60' for 4 hours on 1 flask of oil. Once per day, it can be shaken wildly to act as a flash-bang to all those that can see it, this depletes its light for the rest of the day.
2.
Ulfire Candle.
A bulbous candle made of purple wax, shines a bright light up to 30' for an hour. Everything within this light glows in brilliant infrared light.
3.
Glow-gas.
A jar filled with a hazy golden cloud that smells oddly of fresh cake. Once released, everything in the current room (if outside, 90' sphere) is lit up for an hour with a radiant light.
4.
Holy Oil Lamp.
A Gothic looking lamp, rumored to be lined with the tears of a saint, nonetheless it emits a pale white light up to 60' for 4 hours on 1 flask of oil. Ghosts cannot enter the lamp's light, but will likely haunt the lamp holder once the light is snuffed.
5.
Ardent's Torch.
A torch made of a rough white bark, covered in a weird slimy oil, that can emit a crimson light up to 30' for an hour. The torch can be pointed at a direction and the flame can be shot as a projectile (D8 Damage) as an action. Due to the special oil on the torch, it takes a full minute to relight the torch.
6.
Mood Lighting.
A torch made of a smooth black bark, prismatic petals still sprout from the stick, that can emit a light up to 30' for an hour. The torch's behavior reflects how the user is feeling. For instance, the flame is a deep crimson and billows wildly with sputters of smoke if they are angry, it is small and a pale blue if the user is sad, it is yellow and smells of home if the user is happy, etc.
Bags:
1.
Baleful Bag.
A large messenger bag made of a red tanned leather. This bag can hold up to three slots / 15 pounds of items. When it is opened, it violently shoots all items stored within (D6 per item stored) at projectile speeds, likely ruining whatever was put in.
2.
Pretender's Purse.
A fist sized coin-purse, bound by copper wire. The inside of this coin-purse is illusory, and can
look like
it is containing whatever the holder desires.
3.
Secure Sack.
A haversack with all sorts of complex runes inscribed over it. This bag can hold up to three slots / 15 pounds of items. To be bound to the bag, the user must go through a complex ritual that takes 30 minutes. If somebody not bound to the bag tries to open the bag, the bag starts screaming. Only one person can be bound to the bag at a time.
4.
Picnic Pouch.
A canvas pouch with a checkered design. Food items can be put in here and they won't rot. Once per day, the user may think of a mundane food and make a
WIL
save. If they succeed, they pull out a day's worth of rations of whatever food they were thinking of. If they failed, the food they pull out is rotten and rancid.
5.
Sinew Sack.
A flesh-bound bag that cannot hold anything due to the gaping maw that is its inside. Once per day, the user may think of a mundane body part and make a
WIL
save. If they succeed, they pull out the body part from the bag.
6.
Spellflesh.
Alright, I'll admit, this isn't an item, but it's a cool rule for Into The Odd that may be adaptable to other systems. If the user has a spell, they can transcribe it into their flesh, consuming the spellbook and taking a permanent 1D6 STR damage, but they no longer have to carry around the spellbook. Anything is a bag if you're creative and willing enough.
Tools:
1.
Bounding Bear Trap.
An intricate bear trap with several symbols written onto the triggering mechanism. The user can write a location onto the triggering mechanism. Once somebody is caught by the trap, the trap animates and drags the victim to the written location for 10 minutes.
2.
Bountiful Bucket.
A large tin bucket with arcane symbols written on the bottom of the bucket. At the beginning of every day, there is a gallon of a random liquid within the bucket. Roll 1D6. 1-3: Water. 4: Grease. 5: Oil. 6: Ale.
3.
Marked Incense.
A packet of multicolored incense sticks that smell like burning plants. When lit, it covers a 15' area in colorful smoke. This smoke sticks to skin and organic matter, it sparkles glamorously.
4.
Fiendish Face.
A large red mask with two ram-like horns. While wearing the mask, the user can will the mask to have different demonic features, as long as it is considered fiendish by the GM.
5.
Miracle Marbles.
A bag of glass marbles, strange multicolored things can be seen shifting within the hollowed glass. Upon stepping on the marbles, they explode harmlessly in a colorful and loud bang.
6.
Horn Of The Beast.
A hollow battle horn carved from the horns of an alpha satyr. Once per day it can be blown to sound like the roar or scream of any beast that the user can think of.
Books:
1.
Scribeslove.
A book with completely white covers made of hardened stacks of parchment. Once per day it can be clapped together, in which case it will produce a small grunting sound before spitting out 1D6 blank pages of parchment created out of thin air.
2.
Book Of The Dead.
A book made of the tanned hides of dead things, human and animal. Ghosts can write in this book at will.
3.
Animated Album.
A blank book that's colorful cover seems to shift. Any drawing or picture written in this book will animate itself within the pages for a day before the ink vanishes in a smear.
4.
Tome Of Turmoil.
A thick spellbook with pages of three different colors. These colors correspond to three different spells held in the book, they cannot be identified except by the type of magic they use. Once a spell is used, the color of the pages burn.
5.
Tome Of The Glutton.
A spellbook with a cover that looks like a gaping maw with quills for teeth and leathery lips. If a magic user's brain is fed to the cover, pages manifest inside the book. This adds one spell that the magic user knew into the spellbook. This book can hold up to 1D6 + 1 spells.
6.
Tome Of The Heathen.
A spellbook that has several pagan symbols written over the original writing. It contains one spell, but it is an immensely corrupted and unstable version of it. If the book is burnt, the tome is turned into a
Spellbook Golem
for 1D6 turns before exploding (D12 Blast.)
Armaments:
1.
Flail Of Screaming.
The ends of this flail (D8) look like jagged screaming faces made of wrought iron. When the flail is swung, it creates a screaming sound, meant for intimidation on battlefields.
2.
Adder's Embrace.
This spear (D6, Reach 10 Ft) initially appears as a golden serpent coiled around the user's arm. If given a command, the snake becomes rigid and reveals its spearhead tongue.
3.
Ardent's Axe.
This small handaxe has several runic symbols engraved within its copper blade. If given a command, the axe sparks alight and sends a jolt of electricity to the poor soul this is buried in. The victim must pass a
DEX
save or else be stunned for a turn.
4.
Alchemist's Arrows.
These arrows' shafts are made of ceramic and their heads are made of hollowed glass. When put into a bow, these only deal D4 damage, but the hollowed glass tip shatters. The ceramics can be unscrewed, and substances such as poisons, acids, or potions can be put into the arrow's tip. It is
extremely
hard to get a substance out once put into the hollowed glass.
5.
Force Crossbow.
A crossbow made of black wood and a weird purple tinted iron, it has a large crank. It can fire regular bolts (D8) or it can be wound up and fire a powerful torrent of air, causing the target to drop whatever they are holding.
6.
Deadset Dagger.
A dagger made of brass with small bolts coming out of the hilt. It can be thrown (D6) and while in flight, it can be commanded to stop. In this case, it stops completely in the air without falling to the ground unless commanded again. It can support 50 lbs of weight before it breaks.
Armor/Clothing:
1.
Folly Mail.
A set of black and beaten plate (Armor 1) that has silver inlays of various healing runes. Once per day, when the user falls unconscious, the armor animates itself. For 1D4 rounds, the player who wears the armor may still control their character, although clumsily. (Variant rule, each person at the table gets 1 action in the armor, pass control clockwise.)
2.
Screamer's Helm.
A small and rotund helmet made of iron with a pudgy face at the top of it. The helmet, once per day, can be commanded to make any sound that the user desires. The sound emanates from the top of the helm and can be heard up to 90'.
3.
Pretender's Plate.
A ostentatious set of silver armor with several holy symbols inlaid in gold. It can be commanded to, once per day, sprout wings for 10 minutes. These wings cannot actually fly, as the combined weight of the user and the armor makes it too heavy to do so.
4.
Mage Armor.
A set of robes made almost purely of parchment, and whatever isn't parchment is leather covers of other spellbooks. This armor holds 1D6 spells (minimum 3), and once per day, as a free reaction to a hit against the user, they may decide to reduce the damage of the attack by 3. This releases a random spell from the armor which may be extremely dangerous and have unintended consequences.
5.
Familiar Furs.
A trailing set of various furs patched to form a cloak. The cloak is made of 1D6 animals (minimum 3), as an action the cloak can be billowed out and one of the furs can be released from the cloak. Once released, the fur turns into the animal it was once in life, and obeys the owner for 10 minutes before running off to the wild.
6.
Gluttony Guard.
A big set of iron plate (Armor 1) that has large shoulder pads and a pronounced breastplate. The inside of the armor is a small pocket dimension, similar to the bag of holding, that allows fat people to slip into the armor seamlessly without their weight pressing upon the armor.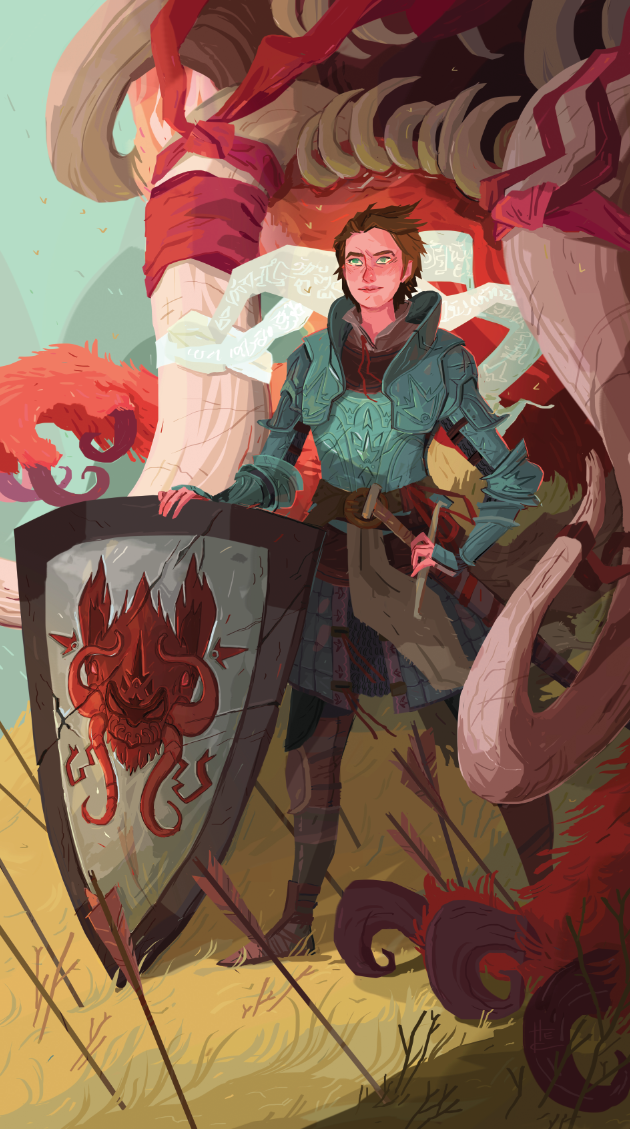 Now, Off Towards
Adventure My Pretties!
(Nafah)